As a public charter school of choice, our mission statement is at the heart of what we do. Our mission statement is as follows, Brooks DeBartolo Collegiate High School strives to be a model collegiate high school, offering a broad educational program, for students from diverse backgrounds. Within a caring, respectful, and inclusive environment, the school is committed to instilling in each student a desire to learn, take appropriate risks, overcome challenges, and become life-long learners.
At Brooks DeBartolo Collegiate High School (BDCHS), we serve a diverse population of students from the Tampa Bay area that are seeking a quality education in a small, safe and caring learning environment. Students are a name and not a number among our student body of just over 600.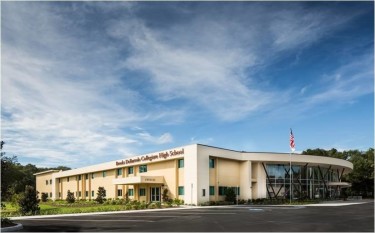 Through our unique college and career preparatory program, students become well equipped to become critical thinkers, collaborative learners, and productive citizens of the local, state, national, and global society. By providing a high-quality, challenging educational program with various acceleration opportunities, Phoenix students are exposed to curricular programming that promotes post-secondary success and supports individual student academic and personal goals.
BDCHS is able to create and maintain its caring, safe, and engaging student-centered learning environment as a result of the dedication and investment of our founders, Board of Directors, teachers, staff, parents/guardians, students, and community members. The relationships and partnerships that we have built with various stakeholders have allowed BDCHS to build a history of success within the curricular programming and throughout our extra-curricular opportunities including athletics, academic honor societies, and many student clubs and organizations.
It was the vision of Hall of Fame Buccaneers linebacker Derrick Brooks and the Edward J. DeBartolo Jr. family to create a learning environment that supported college preparation and career readiness within a small, safe, and caring atmosphere to high school students in the Tampa Bay area. Their goal was to open a tuition-free charter school that would provide a rigorous quality education, similar to that of the private schools in Hillsborough County and to provide a greater opportunity for academic achievement to students who otherwise may not excel in a large school setting. With this strong vision in mind, the charitable organizations of Mr. Brooks and the Edward J. DeBartolo Jr. family joined forces to create BDCHS in 2007.
The school moved from its original location at 15th Street and Fowler Avenue in Tampa to a new state-of-the-art campus four miles west off of Fowler Avenue to Central Avenue adjacent to Interstate 275. Since then, the enrollment has grown from 172 students to 600+.
Our campus home provides many opportunities for students to excel in various academic and social-emotional areas. Expansion of quality technology including a wireless network allows students and teachers to effectively access, manage, and manipulate information and data. The increased availability of tools such as Chromebooks, iPads, and interactive smart boards provide engaging activities within the school environment.
Our two fully-equipped science labs, a STEM lab, and technology labs allow students to participate in experiments, interactive labs, and use technology to engage in authentic assessments of course material. Additionally, our fitness center, fitness trail, gym, and fields support our students in enhancing their health and wellness.